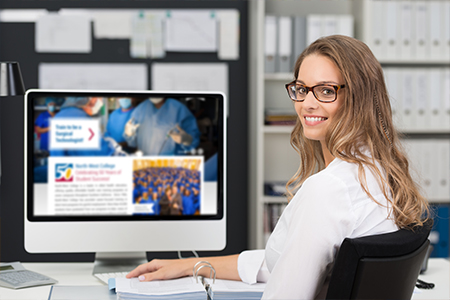 Online Medical Billing & Coding
Train for a new career online anywhere you can connect to the Internet.
Student Success Stories
"Tell us your story!
How did your experience at Glendale Carreer College help you? Did our career services team help you find a job after you graduated? Have you been promoted to a new position?
If you have a story you would like to share, we would love to hear it! "
Glendale Career College Family
"The Glendale Career College program changed my life! I am grateful for the education I received from Glendale Career College. I would recommend GCC to anyone who is looking to advance their life. "
Trent Northcutt
"I graduated from the LVN program in 2007. Glendale Career College assisted me in finding employment in a facility where I've been employed for over a year!"
Jacobi Smith
"I love everything about GCC. I am a graduate of GCC from the Surgical Technology Program in 2010. They provided me with all the tools and training I needed to become the successful person that I am today."
Jennifer Jean Smith
Medical Insurance Biller & Coder – Distance Education Course Material
The Medical Insurance Biller & Coder - Distance Education program at North-West College is designed to provide a comprehensive working knowledge of all phases of medical insurance, consisting of billing, pre-authorization follow-up techniques, posting insurance payments and more.
The program is divided into eight class course modules, including a hands-on clinical internship where students have the opportunity to gain experience applying the skills learned in the classroom in an actual health care or business setting.
Courses for this program include:
Seminar for Success  - Orientation and success building course for Career Students. Review of basic math, language, vocabulary, and writing skills. Introduction to core career classes, availability of community resources, outlining, summarizing, managing credit, and other life skills
Medical Financial Procedures  - Medical Terminology, Transcribing, Payroll, Banking, Bank Reconciliation, Bookkeeping, Day Sheets, Accounts Payable – Invoices, Accounts Receivable, Reproductive, Endocrine, Excretory, Special Senses, and Respiratory Systems
Secretarial  - Medical Terminology, Correspondence, Memos, Filing and Maintaining Medical Records, Mail Handling, Accounts Receivable, Collections, Processing Patients, Medical and Legal Issues, Medical Ethics, Nervous and Digestive Systems
Insurance I  - Medical & Extensive Insurance Terminology, CPT Coding, HCPCS, ICD-9 CM Coding, Processing Insurance Forms: Private Insurance, Medicare, Medi-Cal, Medi/Medi, Electronic Billing, Body Structure, Muscular and Skeletal Systems
Insurance II  - Insurance Terminology, CPT Coding, ICD-9 CM Coding, Insurance Billing (CMA-1500) for Private Insurance, Medicare, Medi-Cal, SDI, and Worker's Compensation, Insurance Verification
Communications / Insurance III / Computers  - Insurance Contracts, Review of Verification of Patient's Benefits, Insurance Plan Provisions, Facility Billing, Coordination of Benefits, Types of Adjustments, Overview of Dental Terminology and Dental Claims, Medical & Insurance Terminology, Résumés, Employment Applications, & Mock Interviews Rapport with Fellow Team Members, Courtesy & Respect, Professional Conduct, Guidance in Professional Appearance & Building Self-Esteem. Doctor and Medical Specialties, CPT Coding, ICD-9 CM Coding, and an overview of Health Claims Examining, Lymphatic, Cardiovascular, & Integumentary Systems, Introduction to Computers, Word, Excel, Medi-Soft, Processing Electronic Insurance Claims, and Creating Professional Quality Résumés
Career Seminar  - Internship Workshop, Career Readiness Workshops, New Student Orientation, and CPR Certification
Clinical Internship  - Internship to apply the knowledge and skills learned in the classroom in an actual practice setting
Get started now!
Learn more about Glendale Career College and our programs.