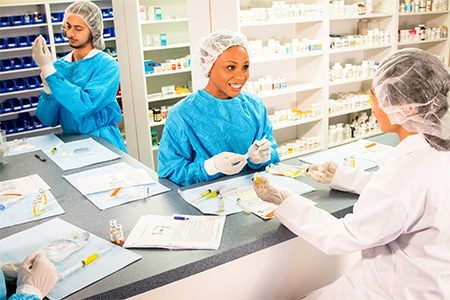 Pharmacy Technician
The many miracles of medication
Student Success Stories
"The Glendale Career College program changed my life! I am grateful for the education I received from Glendale Career College. I would recommend GCC to anyone who is looking to advance their life. "
Trent Northcutt
"I love everything about GCC. I am a graduate of GCC from the Surgical Technology Program in 2010. They provided me with all the tools and training I needed to become the successful person that I am today."
Jennifer Jean Smith
"Tell us your story!
How did your experience at Glendale Carreer College help you? Did our career services team help you find a job after you graduated? Have you been promoted to a new position?
If you have a story you would like to share, we would love to hear it! "
Glendale Career College Family
"I graduated from the LVN program in 2007. Glendale Career College assisted me in finding employment in a facility where I've been employed for over a year!"
Jacobi Smith
Pharmacy Technician Course Activities
As a Pharmacy Technician, your job tasks and responsibilities may include: receiving incoming prescriptions, transcribing physician's orders, calculating doses, using drug distribution systems, preparing IVs, packaging medications, filling patient cassettes, labeling prescriptions, and interfacing with patients. Best of all, your career skills will travel with you wherever you go.
Pharmacy Technicians typically perform the following tasks:
Collecting information to fill prescriptions from customers or health professionals
Measuring amounts of medication for prescriptions
Sterile and non-sterile drug compounding
Packaging and labeling prescriptions
Organizing inventory and alerting pharmacists to shortages of medications or supplies
Accepting payment for prescriptions and process insurance claims
Recording customer or patient prescription information
Answering customer phone calls
Arranging for customers to speak with pharmacists to answer questions about medications or other health matters
Get started now!
Learn more about Glendale Career College and our programs.