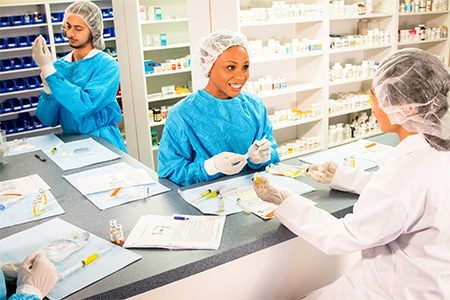 Pharmacy Technician
The many miracles of medication
Student Success Stories
"I love everything about GCC. I am a graduate of GCC from the Surgical Technology Program in 2010. They provided me with all the tools and training I needed to become the successful person that I am today."
Jennifer Jean Smith
"The Glendale Career College program changed my life! I am grateful for the education I received from Glendale Career College. I would recommend GCC to anyone who is looking to advance their life. "
Trent Northcutt
"Tell us your story!
How did your experience at Glendale Carreer College help you? Did our career services team help you find a job after you graduated? Have you been promoted to a new position?
If you have a story you would like to share, we would love to hear it! "
Glendale Career College Family
"I graduated from the LVN program in 2007. Glendale Career College assisted me in finding employment in a facility where I've been employed for over a year!"
Jacobi Smith
Pharmacy Technician Careers
Work Environment
Pharmacy Technicians work under the supervision of pharmacists, who must review prescriptions before they are given to patients. In most states, technicians can compound or mix some medications and call physicians for prescription refill authorizations. Technicians also may need to operate automated dispensing equipment when filling prescription orders.
Pharmacy technicians and aides work in clean, organized, well-lighted, and well-ventilated areas. Most of their workday is spent on their feet. They may be required to lift heavy boxes or to use stepladders to retrieve supplies from high shelves.
Pharmacy technicians and aides often have varying schedules that include nights, weekends, and holidays. In facilities that are open 24 hours a day, such as hospital pharmacies, technicians and aides may be required to work nights. Many technicians and aides work part time.
Graduates of the program routinely find jobs working in:
Pharmacies and drug stores
Medical and surgical hospitals
Compounding laboratories
Grocery pharmacies
And other health care related facilities.
Quick Facts about Pharmacy Technicians*
Employment of Pharmacy Technicians is projected to grow by more than 9 percent in California over the next 10 years, much faster than the average for all occupations.
Pharmacy Technicians work primarily in pharmacies, including those found in grocery and drug stores. Some technicians work in hospitals or other health care facilities. Pharmacy Technicians spend most of the workday on their feet.
Pharmacy Technicians may be needed to take on a greater role in pharmacy operations because pharmacists are increasingly performing more patient care activities such as giving flu shots.
As the number of individuals who have health insurance continues to increase and more people have access to insurance coverage, more Pharmacy Technicians will be needed to handle their prescriptions.
Most Pharmacy Technicians work full time. Pharmacies may be open at all hours. Therefore, pharmacy technicians may have to work nights or weekends.
*Source: https://www.bls.gov/ooh/healthcare/pharmacy-technicians.htm
More information, including median wages and the job outlook for Pharmacy Technicians in California can be found in the California Occupational Guide published by the State of California Employment Development Department. For the latest national information, please visit the U.S. Bureau of Labor Statistics.
Get started now!
Learn more about Glendale Career College and our programs.